Well, here we are at the end of our Work-Family-Ministry Balance series.  Thank you for your interest and comments.  By God's gift, this was and is our own family identity.  These are not theories that belong in a book or ideas that we never actually got around to.  No, this was and is the fabric of our family life.
So let me close with a few reminders from our last few weeks together.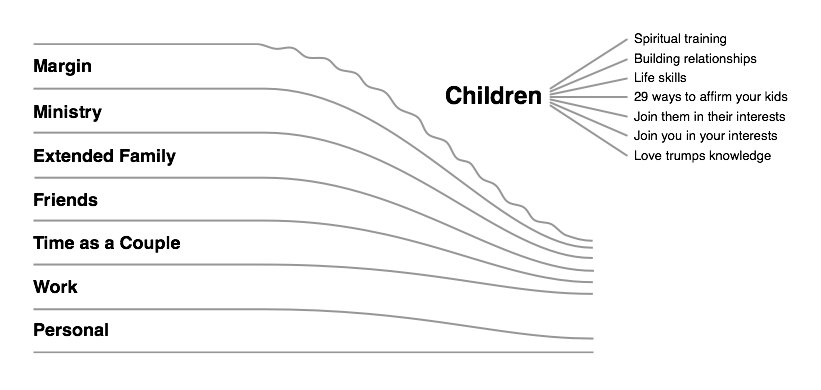 Reviewing our chart above, remember…
The time commitments on the left side are going to be "squeezed" when children join our family.
We can't let these "squeezed" areas go to zero.
If our time as a couple goes to zero in these busy children years, there will be no spark, no flame, no fire, no romance when we emerge on the other side and the kids have left the house.
Margin is not a spiritual concept, but availability to serve and go the second mile is.
The upper right side of our chart is not babysitting or child care; it is investing.
It is investing in your child's future and your legacy.
Kids spell love T-I-M-E.
Building the relationship is more important than rules of control.
Your quitting time at work is your starting time at home.
You may feel indispensable at work; you are indispensable at home.
Show your wife, by your actions, that you are in this together.
Can you do this?  Yes, you can!  How do I know that?  Because if you are a Christ follower, you have been gifted with all that became new at your new birth to be a godly husband and father.  You have your degree.  You have your papers.  You are qualified to do this.
So take the next step in your journey of leading your family, and I will see you around the water cooler, the church foyer, or the baseball field.